Testing The Ceiling
May 14th, 2016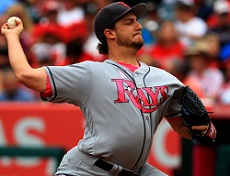 Matt Andriese is back in the Rays' starting rotation today against the A's, and it's not just another spot start, according to Kevin Cash.
Forget about the heinous starting pitching the Rays have gotten lately, including last night's Sonnanstine special by Jake Odorizzi, who was tagged for three bombs and five runs in four innings. Andriese getting the ball today is about pitching himself into a fifth-starter role.
The right-hander was stellar in a win over the Angels on Sunday, allowing one run and four hits with three strikeouts in seven innings. His on-again, off-again major-league career leaves much to be learned about him, but his step forward in SoCal gave him this shoot..
Asked about Andriese by Steve Duemig on 620 WDAE-AM, manager Kevin Cash said Tuesday that Andriese has a higher ceiling than a one-run, quality start. Cash said Andriese was forcing his way into the rotation.
"Matt Andriese has come such a long way in one year," Cash said. "He was outstanding in Anaheim. But everybody even said he's going to be better."
Joe wants to see how high Andriese's ceiling can be. The 26-year-old is 4-5 with a 3.84 ERA in 26 appearances (nine starts) since making his debut in the majors with the Rays last year.
There's no harm learning what Andriese can do at this level. He's on the verge of graduating from Triple-A Durham for good, so the more major-league seasoning he receives, the better.