Sold Out!
March 29th, 2016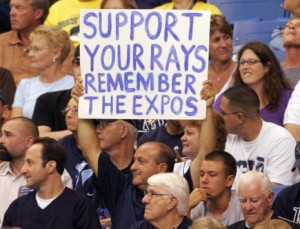 It's fun to say because it's so rare. Sunday's Rays game is sold out at the FruitDome.
Yeah, it happens every year for the home-opener, but it's still special.
A 4 o'clock first pitch against the Blue Jays on a Sunday afternoon. The timing is perfect for a lively and diverse crowd filled with loads of drunks. Even the weather is supposed to be good, low 70s and sunny in the afternoon.
Sadly, this kind of game is critical for the Rays organization, which would benefit so much from all those fans seeing a great game and a Rays win. Stu Sternberg and friends are still on their "one more game" kick, which translates into the push to get those already attending games to just come to one more per year. That would solve the Rays attendance woes.
The cheapest opening-day seats at StubHub right now are going for $53. For another five days, Rays fans can pretend they're in a big-time baseball town.