Longorio, Archer Lead Special Rally
March 17th, 2016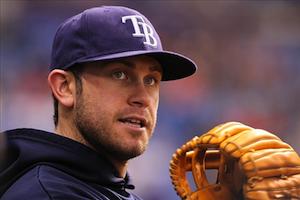 For one player, the Rays' Havana trip next week will be about more than photo opps and a friendly exhibition against the Cuban National Team.
Outfielder Dayron Varona will return home.
The 28-year-old Havana native, who defected to Haiti three years ago, is the lone player not on the Rays' 40-man roster to be placed on Tampa Bay's travel list for the Cuba getaway next week. Turns out, some Rays – including big voices Evan Longoria and Chris Archer – did a little politicking in manager Kevin Cash's ear to have the minor leaguer secure a seat for the flight south.
Roger Mooney of the The Tampa Tribune was in Port Charlotte to record Varona's reaction.
"It means the world to me that (the players) did that," Varona said through an interpreter. "This is really the opportunity of a lifetime to be able to return to my homeland, and I just want to say thanks again to them and the front office for giving me this chance." …

It will be interesting to see how he will be treated by his family, Cuban officials, baseball fans and members of the national team.

"With respect to my family, I hope they're happy to see me," he said. "It's been almost three years, about three years, since I've been away from the island. Really, I'm the only male in the family, so I really hope they're happy to see me. I know I will be.

"With respect to the Cuban people, I hope they see me as a fellow Cuban. I hope they give me applause and receive me well, like they would for their countrymen."
Kudos to Longoria, Archer and others for helping Varona. This will be a cool experience for everyone repping the Rays, and it's appropriate that Varona will be there, too.
How will other Cubans greet him? Who knows?
But you can't fault him for seeking, and living, a better life.