"Isolated" Failure
March 14th, 2016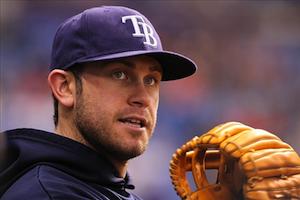 Evan Longoria is the former face of Rays power and production.
Over the past two seasons, his bat has included more bark than bite.
Something has been up with Longo. In 2014, he posted career-low totals in on-base percentage (.320), slugging percentage (.404) and OPS (.724). Those numbers were barely better last year. You could argue it was his second-worst season in the majors.
Sorry, Longoria isn't close to an elite hitter anymore. His 2009 surge, when he launched 33 home runs and had 113 RBIs was long, long ago. At times in recent summers, Longoria has looked as if he's trying to chase his old shadow in the batter's box.
He's still solid. But don't fool yourself: He's no Mike Trout or Bryce Harper.
CBS Sports posted a lengthy Rays season preview, and buried within it was this interesting nugget about Longoria's fall. The stat nerds can't even find a way to save Longoria.
Isolated Power is slugging percentage minus batting average, so it tells you extra bases per at-bat. It's a better measure of power production than pure slugging percentage. Longoria's ISO was well above average from 2008-13. The last two years though, it's been very close to average. When it happens one year, it might be a fluke. When it happens two straight years, it's a trend. Longoria's declining power should worry the Rays, especially since his six-year, $100 million contract extension doesn't kick in until next season.
Don't hold your breath on a Longo revival. Sure, Longo should be commended for his Ironman-like commitment – he has played 482 combined games the past three years.
But it's worrisome that Longoria, now 30 years old, doesn't go long often anymore. Here's hoping he takes a sip from the fountain of youth soon.