Dickey Move
March 7th, 2016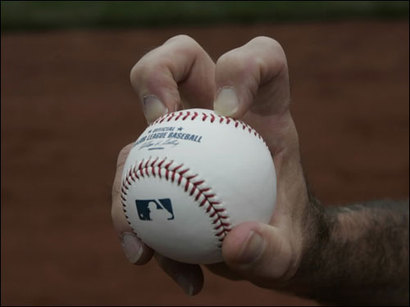 How about this eyebrow-raiser: Dan Johnson is set to return to the Rays while trying to pull a rabbit out of his hat in this new act.
You might remember Johnson as the guy who smacked key homers for Tampa Bay in September 2008 against the Red Sox, and in Game 162 against the Yankees during that wild 2011 finale. In his first Rays stint from 2008 to 2011, Johnson bounced between first base, third base and left field when his swing wasn't lifting him to a starring role in timeless Tampa Bay highlights.
Now he'll try to create more magic … but this time as a knuckleball pitcher.
That's right. This is no early April Fool's joke. At age 36, Johnson is poised to sign a Rays minor-league deal to be a knuckleball pitcher.
Turns out, he has tinkered with the pitch since he was a kid. He started to fine-tune it in the minors in 2013, when he was part of the Yankees' system.
Here's how he approaches his new opportunity, per the Tampa Bay Times:
"This is something I really wanted to try out with the excitement of being with the Rays again," Johnson said.

"It's not the first time I've tried this out. But this is the first time I feel like I can take it seriously. … I'm into it. It's completely up to the Rays how they want to work it. I'm coming in with an open mind."
Everything about this intrigues Joe. How cool would it be to see Johnson go all R.A. Dickey on batters and become a surprise asset for the Rays' bullpen? Or heck, even for the rotation?
There's no harm in seeing if Johnson can pull this off.
Sure, it seems weird. But maybe his knuckleball will include some punch, after all.